Cheating Spouse Surveillance
Suspect Your Wife, Husband or Partner is Cheating on You?
From Beverly Hills to Malibu, Santa Monica and beyond, countless husbands, wives, girlfriends and boyfriends are cheating on their partners. Unfortunately prevalent throughout the entirety of Los Angeles and spanning all generations, infidelity in modern years has become accelerated through the ease of communication provided by technology. However, alongside advancements allowing for unfaithful partners to cheat more easily, comes an array of surveillance techniques to catch even the most sly and careful cheater.
Having successfully provided evidence for skeptical spouses on countless cases throughout Brentwood and Malibu, Beverly Hills Private Investigators stands as the premier cheating spouse investigator worthy of performing the surveillance you require. Professional, discrete, and experienced, Beverly Hills Private Investigators catches cheating spouses - giving you the peace of mind you deserve.
Beverly Hills: Scandalous Lies and Subversive Behavior
Beverly Hills remains a hotbed for insidious activity, with the infamous website Ashley Madison noting a 32 percent increase in sign-ups during 2017, and Los Angeles standing as the number one fastest growing unfaithful city in the United States with a 47 percent user increase!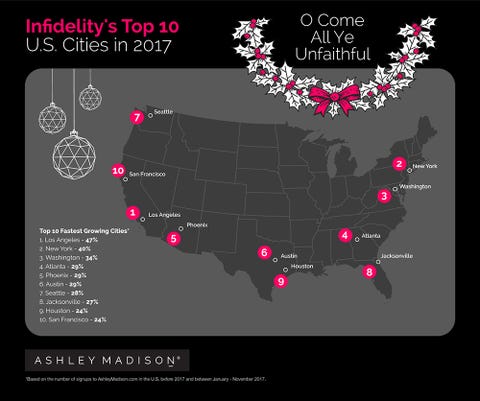 The numbers don't lie - with this many users flocking to online dating sites designed for users who are married, statistically, either you know someone whose spouse is cheating on them… or it's yours!
You Deserve Peace Of Mind
Instead of spending sleepless nights contemplating whether or not your spouse is cheating on you, hire the seasoned professionals at Beverly Hills Private Investigators to discover whether or not your partner is unfaithful. If you have any doubts about your partner's faithfulness, contact our team of investigators who may be able to help you before any damage is done to your relationship. Or, if you suspect an ongoing affair, obtain the proof you need to make any decisions, or to confront your spouse without appearing empty-handed.
How to Tell If Your Partner May Be Cheating on You
With modern technology assisting cheating partners in evading detection more than ever before, it may be difficult to determine if your spouse is cheating. However, there are some questions you can use to determine whether your suspicions are unfounded or not:
Does your partner have a second cell phone they claim is for work, or otherwise?
Do they hide their cell phone screen from you when they're texting?
Do they get defensive when you ask about their plans, or what they're looking at on their phone?
Do they have an extra set of clothes in their car trunk?
Have they started to work unusual or long hours at work?
Are they deleting their calls or messages?
Are they using another messaging application to mask their contacts and discussions?
Has your relationship been emotionally distant or sexually stagnant?
Have they suddenly changed their habits (frequenting the gym, new hairstyle, new clothes, etc)?
Are they lying about their location and accompanying individuals?
While these are just a few examples, if you answered "yes" to any or all of the above questions, we encourage you to seek the assistance of a licensed and insured private investigator to look further into your suspicions. Letting suspicious activity continue will only result in anxiety, confusion, and heartbreak - let the professional detectives at Beverly Hills Private Investigators discover if your partner is unfaithful or lying to you before any more damage is done!
Licensed and Insured Investigators, Legal Surveillance
Our team of professional cheating spouse investigators utilize the latest in state-of-the-art equipment to ensure your success in the field. From legally utilizing GPS trackers to pinpoint location and behavior, to subtle, discrete cameras and microphones, even the most slippery and careful adulterer cannot evade the expert surveillance techniques employed by Beverly Hills Private Investigators.
While competing private investigators are either hobbyists or retired law enforcement, Beverly Hills Private Investigators ensures our clients' safety and satisfaction as a licensed and insured investigatory agency. Trust your emotionally sensitive case to professionals with the ability to efficiently acquire the evidence you desire with Beverly Hills Private Investigators.
Is Your Partner Acting Strange? Need Evidence to Prove Their Infidelity? Call Beverly Hills Private Investigators!
Don't get blindsided by infidelity in your relationship - call Beverly Hills Private Investigators today for a consultation to discuss your case and concerns. From celebrities to residents of Santa Monica and Manhattan Beach, cheating partners are a common occurrence. Having performed surveillance on countless individuals throughout the area, Beverly Hills Private Investigators knows how to catch a cheater quickly and efficiently. Give us a call to discover the truth you deserve!

CALL NOW: (833) Go-Get-Em
E-Mail: [email protected]